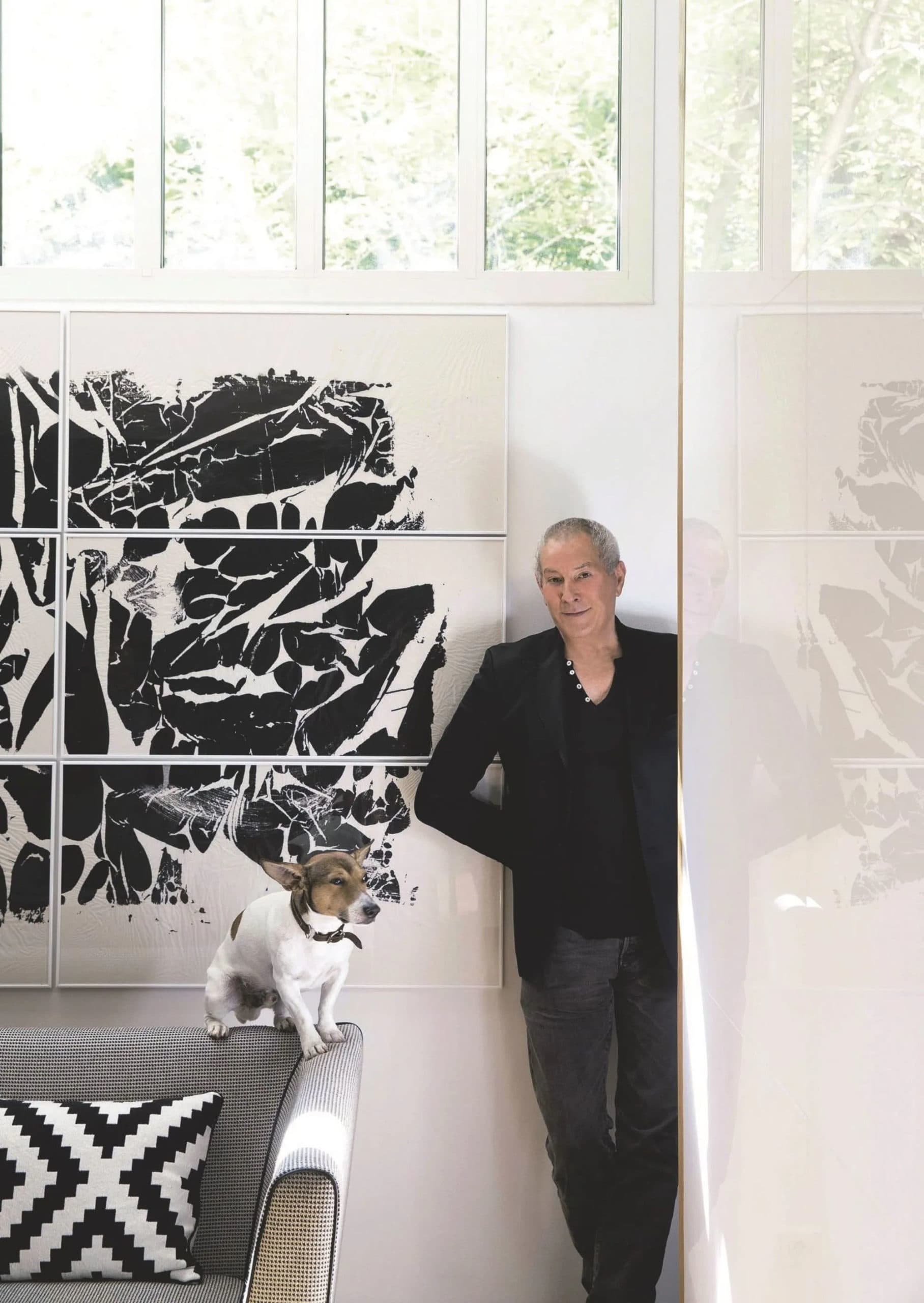 INTERIOR DESIGNER
ARTISTIC DIRECTOR
DESIGNER
Professional experiences
1998 – 2014: ARTISTIC DIRECTOR
LAMPE BERGER (1998 – 2008) / DALLOYAU (2006 – 2008) / REVOL (1999 – 2003) / ROSENTHAL / CHRISTOFLE / BOUGIE RIGAUD / SAARGUEMINE / CRISTAL D'ARC / SALVIATTI / POILANE / DESHOULIERES…
1983 – 2014: CONSULTANT AND DESIGNER
ALAIN DUCASSE -MONACO / MICHEL ROSTAND – PARIS / LE CIRQUE – NEW YORK / LE BERNARDIN – NEW YORK / LE CRILLON – PARIS / LE LUTETIA -PARIS/ LE CHANTICLAIR – NANTUCKET USA / LA MAISON DU CHOCOLAT – PARIS/ LE LUTECE -NEW YORK/ LE PERIGUORE -NEW YORK/ LE CAFE DE FLORE -PARIS/ LE WATERGATE -WASHINGTON/ L'HU1TRIERE -LILLE / L'ECUME DES MERS -LILLE / LA TABLE DES CORDELIERS -CONDOM / LA PERIE DE PRAGUE -PRAGUE / LA PYRAMIDE -PATRICK HENRIROUX -VIENNE FRANCE.

1969-2014: INTERIOR ARCHITECTURE / ARTISTIC DIRECTOR / DESIGNER
PRIVATE APARTMENTS, OFFICES, SHOPS, EXHIBITION STANDS, CORNER SHOPS, HOTELS, RESTAURANTS…
DESIGN OF COLLECTIONS, CATALOGS, EVENTS, PACKAGING…

PAINTING EXHIBITIONS 1977-2014:
INTERNATIONAL CONTEMPORARY ART FAIR OF PARIS – FIAC (FROM 1977 TO 1980) / ART EXPO COLISEUM NEW YORK (1982) / GALLERY WALLY FINDLAY PARIS (1984) / GALLERY WALLY FINDLAY NEW YORK (1985) / ESPACE PIERRE CARDIN PARIS (1986) / GALLERY ART 54 NEW YORK (1988) / BOUQUINERIE DE L'INSTITUT PARIS (1993) / LE LUTECIA PARIS (2013)

2000-2005:
ARTISTIC DIRECTOR AT LILLIAN VERNON -NEW YORK
DESIGN OF THREE CATALOGS: "OUT DOOR" "KITCHEN'" "CHILDREN'S"

1989-1990:INTERIOR ARCHITECT – COLLABORATION WITH FRANK GEHRY
Dancing Building Prague
TRAINING
1968-1969:
NATIONAL SCHOOL OF DECORATIVE ARTS
SCENOGRAPHY, TOP OF THE YEAR

1966-1968:
SCHOOL OF FINE ARTS, TOURS, FRANCE
CERTIFICATE OF APTITUDE FOR HIGHER ARTISTIC TRAINING, TOP OF THE YEAR
Born on October 10th, 1948 in Rabat, Régis DHO grows up in a country of light, contrasts, strong and spicy scents where beauty and balance reign supreme.
His first steps in France take him to TOURS and, at sixteen, he registers at the Fine Arts School and graduates first with honours in his year after three years of brilliant studies. Then he joins the National School of Decorative Art in PARIS where his talent also allows him to pass a degree of scenography in 1969. This is an important year since he meets Pierre CARDIN who immediately hires him as a stylist.
After several years of poetic wanderlust, Régis DHO, exalter of the fantastic, lets himself be guided to meet those who sculpted his aesthetic world, such as Leonor FINI, Pier Paolo PASOLINI, Federico FELLINI – just to mention those who were closest to his truth.
After the agitated episode of 1968, Régis DHO makes the most important decision in his career; he chooses to make his living solely out of his pencil. He rents a studio where Auguste Renoir lived for over twenty years.
He meets Michel ROSTANG and designs for him decors such as "Amaryllis", "Cornes d'Abondance", "Herbier"…
He soon receives requests from famous Chefs to design customized decors that perfectly embody the character of each Chef's Cuisine. To date, more than 80 Starred Chefs have used the talent of Régis DHO, among them Alain DUCASSE of the Hôtel de PARIS in MONTE-CARLO and Sirio MACCIONO the friendly owner of the famous "Le Cirque" in NEW YORK. At Fernand POINT's request, Régis DHO redecorated the Temple of French Gastronomy, "la Pyramide" in VIENNE, France.
He collaborated with the famous architect Frank GHERY on the design of the famous Dancing Building in PRAGUE and even "Le Bernardin" in New York at Eris RIEPPERT's request (Best Chef in the World 2001 and 2003).
The prestigious Hotel de CRILLON also chooses him to guarantee the aesthetic future of the product line. CHRISTOFLE, the famous goldsmith entrusts him with the management of the "pavillons".
He designs for the 150th anniversary of HAVILAND porcelain an exceptional tea set, and also restyles the ROSENTHAL CLASSIC collections.
He uses his creativity for BACCARAT, DAUM and the Venetian Glass Crystal Maker SALVIATI.
He develops the scented lines of "Amélie et Mélanie" and rejuvenates the famous RIGAUD Candle with its new range "Les Chéries".
Among other things, he takes over the Artistic Direction of Lampe BERGER and the prestigious gastronomy house DALLOYAU.
He also collaborates for high-end lighting and furniture, as well as for LONGWY enamels and earthenware.
Having confidence in his intuition and driven by his many creative desires, he presents each year at the international exhibition "Scènes d'intérieur" his personal line of rare objects "Les extravagances" intended for an exclusive and demanding clientele, and is always present at the "Maison et Objets" Exhibition.
He is now the artistic advisor for leading products such as Philippe DESHOULIÈRES Porcelain or POILÂNE Bread.